Talk show host and movie critic Michael Medved once told a cultural conference in Washington, D.C. that people could be divided into two basic groups – those who are grateful to God and those who are not.
Mr. Medved, an orthodox Jew, said that for the ungrateful, each day begins with new complaints about their sorry state, which is usually someone else's fault. For those filled with gratitude, however, life begins each day with a simple thanks to God for another day of life and the hope that God will bless their endeavors throughout the day.
The Pilgrims are credited with celebrating the nation's first Thanksgiving in 1621, the year after the Mayflower landed. Despite having lost nearly half of the passengers during that first winter, they gathered for a feast with several dozen Indians at Plymouth, Massachusetts to thank God following their first harvest.
Farther south, in the nation's first English colony of Jamestown, Virginia, which was founded in 1607, the settlers devoted many days to thanksgiving, beginning in 1610.
More than a century and a half later, Benjamin Franklin's invocation of prayer turned around a stalled constitutional convention at the dawn of a new nation. He reminded himself and his countrymen to be thankful for providential blessings great and small. He saw gratitude as indispensable to mental and societal health. As for its opposite, he said bluntly that "ingratitude is one of the most odious of vices."
One of Franklin's many recorded prayers includes this passage:
"Let me not be unmindful to acknowledge the favours I receive from Heaven …. For all Thy innumerable benefits; for life and reason, and the use of speech, for health and joy and every pleasant hour, my Good God, I thank thee."
Reasons to Be Thankful
At the Timothy Plan, we're not only grateful to live in the freest and most prosperous nation in history, but for many blessings that God has bestowed on us. This past year alone, we reflected on some of those:
25 Amazing Years
On May 18, Timothy Plan marked 25 years of Biblically Responsible Investing with a gala at the Gaylord Palms Resort in Kissimmee, Florida. When Art Ally launched the Timothy Plan in 1994, he had no idea where it would go, just that God had to be in the center of it. There were many times when the distributor's coffers ran nearly dry, but God always delivered on time with financial support from new and original, faithful partners.
Launched New ETFs
On May 1, Timothy Plan marked a new era by launching two new Exchange-Traded Funds – the Large Cap Core and Timothy Plan High Dividend Stock ETF. "In order to continue our mission of providing Christians with relevant investment products that do not compromise their values, we are excited about partnering with Victory Capital to launch these two ETFs," Art said. "Victory Capital provides the level of service and expertise that Timothy Plan investors expect, and I feel confident that Victory Capital can help us fulfill our highest priority—to glorify God by striving for excellence in all that we do."
Faith-Based Investing Movement Grows
In August, The Signatry, a Kansas-based global Christian foundation that specializes in financial stewardship, published the book, "Investing & Faith: The Impact of Faith-Based Investing." Edited by Signatry President Steve French, the 169-page book leads off with Ally's chapter outlining a history of the field and a profile of the Timothy Plan.
The Story of Timothy Plan is Finally Told
Also, in August, Nehemiah Publishing announced the release of "Invested with Purpose: The Birth of the Biblically Responsible Investment Movement" by Art Ally with Robert Knight. The 190-page book traces the history of faith-based investing, Timothy Plan's story and includes lively autobiographical sketches of Art and Bonnie Ally and their family and staff.
A Life Remembered Well
On September 26, we were saddened by the passing of Stephen Ally, who fought a courageous battle against cancer. Stephen was a blessing to so many people, especially to his wife Stephanie, their children, Trenton, Brandi, Christina, Lindsay and Kaleigh, their grandchildren, Zoey, Zara, Grace and Mason, his parents, Art and Bonnie, his brother Doug and sister-in-law Glenda, his sister Cheryl and brother-in-law Brian, his mother-in-law, Patricia Bailey as well as many, many other family and friends. Because of his strong faith in Jesus, Stephen's family and friends were able on October 13 to share in truly celebrating his life and his assured passage to be home with his Heavenly Father.
NYSE Opening Bell
On October 21, Art kicked off the New York Stock Exchange on Wall Street in New York City by ringing the opening bell. Surrounded by family and friends, he pushed the button that starts the trading day. News reports noted that Timothy Plan had achieved the milestone of more than $1 billion in assets under management.
Eternal Thankfulness
None of this would have been possible without God's leading and blessings. Along with millions of other Americans, we pause to offer thanks to the One Whose infinite love not only sustains this nation but promises an eternal future for those who love Him through His Son, Jesus Christ our Lord.
---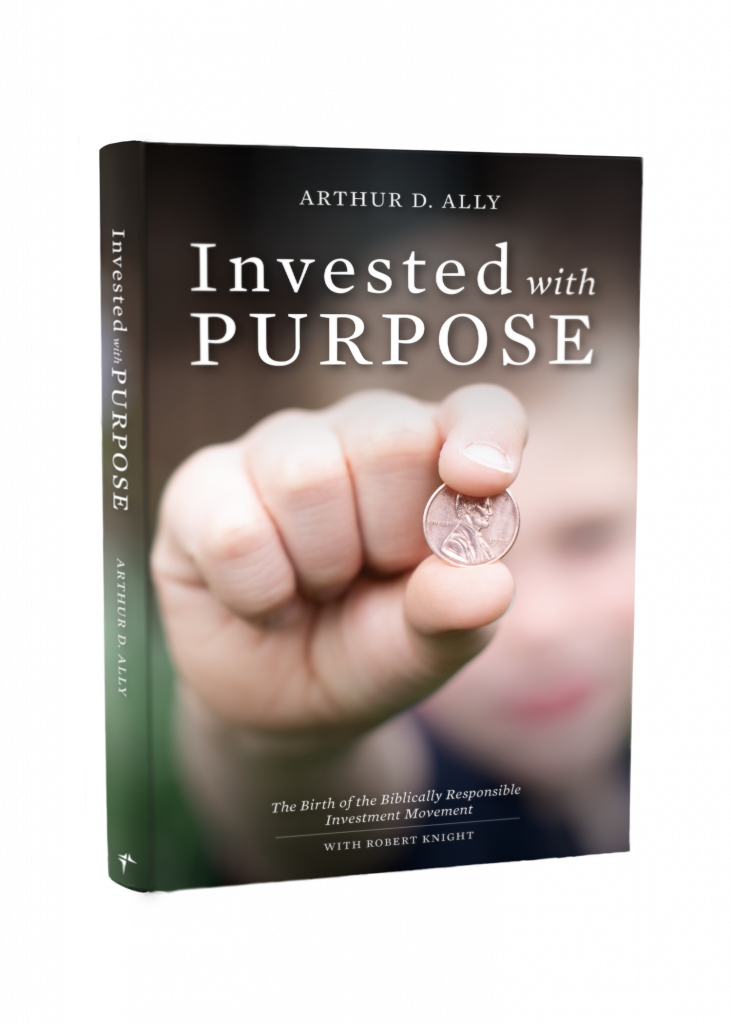 How much money is OK to have invested in abortion or pornography?
The Answer is simple. Not a Penny.
Invested with Purpose is the story of how one man's vision has led to a revolution: Biblically Responsible Investing.
Available on Amazon.
Published by Nehemiah Project, a ministry dedicated to building Kingdom businesses globally.