A Celebration of Life for Stephen will be held on Sunday, October 13, 2019 at 2 p.m. at Orlando Grace Church, 872 Maitland Avenue, Maitland, Florida 32751, with a reception to follow.
Stephen Michael Ally, age 55, died peacefully holding his wife's hands-on September 26, 2019, in their home in Casselberry Florida after a courageous battle with cancer.
He was a proud graduate of the University of Kentucky where he received his degree in marketing. He was a loyal son, who played an integral role in the formation of America's first biblically-based mutual fund, Timothy Plan. As COO and Vice President of Timothy Plan, he helped turn it into a $1 billion firm.
For the past 25 years, he worked alongside his Timothy family, which included his parents, Art and Bonnie Ally; his sister and brother-in-law, Cheryl and Brian Mumbert and his brother and sister-in-law; Doug and Glenda Ally.
Stephen had worked with Art since 1990 at the Raymond James Financial firm and Covenant Financial Management before joining Timothy Plan in 1994. A couple of years after earning a marketing degree from the University of Kentucky, Stephen began studying for a securities license to handle stocks and bonds, mutual funds and variable annuities.
"When my Dad started the Timothy Plan mutual fund, I studied for and obtained a Series 24 license to become a registered principal in order to manage Covenant Financial Management while Art was in the throes of starting … Timothy Plan," Stephen told an interviewer.
"We wanted to keep Covenant open … and Raymond James agreed but preferred to ease Art (since he was creating a separate mutual fund) out of the branch, replacing him with me as branch manager.
"Then, once Timothy Plan opened, Art decided he really needed me to be part of the team, so we sold Covenant's book of business and I went fully with Timothy Plan."
When Art ran for the Florida state legislature in 1990, Stephen helped out with the campaign.
"My Dad filed way late and ran against an incumbent," Stephen recalled. "Those were hard days. We canvassed precincts. I was walkin' and knockin'."
They hit every precinct in Seminole County. "But we never got to the little hamlet of Christmas, tucked into a corner near the Seminole Ranch Wildlife Management Area, and about halfway between Orlando and Cape Canaveral," Stephen said. Art wound up losing in Christmas, and the election — by six votes.
In addition to his commitment and passion to his work and faith mission, Stephen enjoyed cooking, golfing, gardening, the beach and watching his favorite sports teams play. He was a fanatic about the University of Kentucky Wildcats and his favorite NFL team since age 9, the Dallas Cowboys.
He is survived by his wife, Stephanie, their children, Trenton, Brandi, Christina, Lindsay and Kaleigh, their grandchildren, Zoey, Zara, Grace and Mason, his parents, Art and Bonnie, his brother Doug and sister-in-law Glenda, his sister Cheryl and brother-in-law Brian, his mother-in-law, Patricia Bailey as well as many, many other family and friends.
"It is with mixed emotions of a heavy heart and a confident, rock-solid faith that I write to share with you the news of the passing of our son, Stephen Michael Ally," Art wrote.
"After a valiant fight against cancer, Stephen went to be with our heavenly Father at 11:57 AM, September 26, 2019. He was a husband, son, father, brother, grandfather, professional colleague, and friend to many.
"Stephen cherished Stephanie, his wife of six years. Stephanie is a devoted wife who gave selflessly to Stephen's well-being until the very end."
Throughout the trials of battling cancer, Stephen never faltered in his faith in the Lord. His strong witness was evident and encouraging to his family, co-workers, friends and even strangers. Stephen communicated to all that "without faith, it is impossible to please God" (Hebrews 11:6).
His strength and courage inspired all who knew him.
---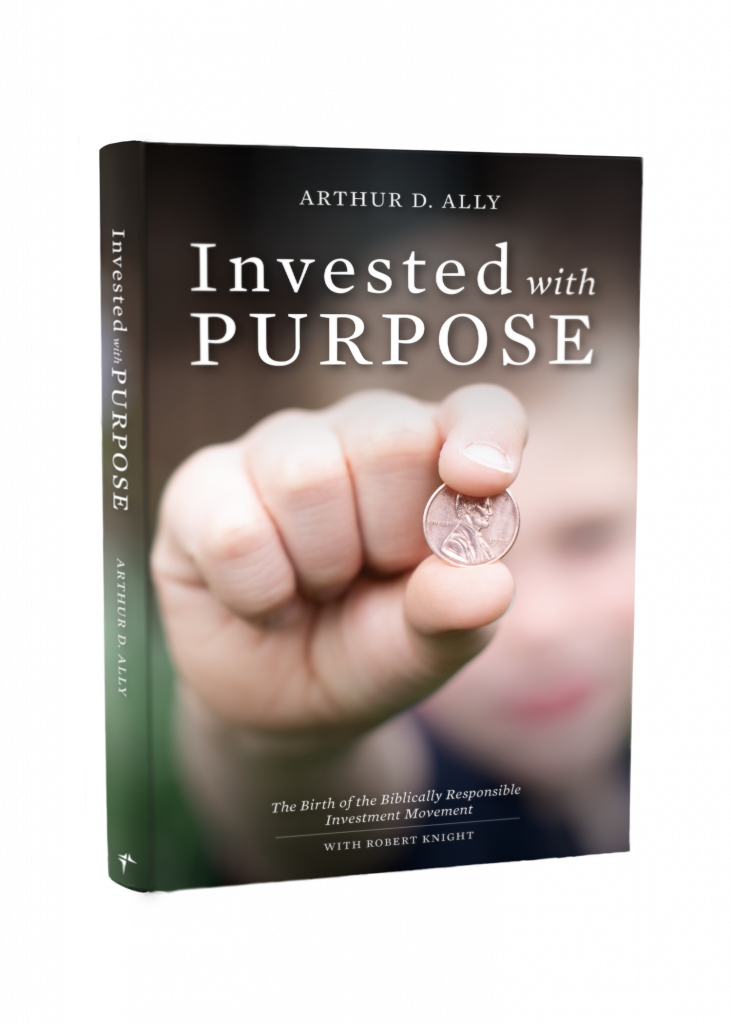 How much money is OK to have invested in abortion or pornography?
The Answer is simple. Not a Penny.
Invested with Purpose is the story of how one man's vision has led to a revolution: Biblically Responsible Investing.
Available on Amazon.
Published by Nehemiah Project, a ministry dedicated to building Kingdom businesses globally.