The Full Picture: A Striking Contrast in Motives – and Outcome
What a difference an image makes. Sometimes, it can even save a life – with a bit of help from some kindhearted people who care enough to intervene.
"Kathy," an unmarried college freshman in Orlando, was nearly 25 weeks pregnant this past spring. Her mother wanted her to have an abortion, so she took her to a "women's clinic" that does late-term abortions and dropped her off with cash to pay for it.
Outside the clinic, John Barros, a Christian pro-life activist who faithfully does sidewalk counseling every day, five days a week, talked with "Kathy" and persuaded her to come with him to CHOICES Women's Clinic, a nearby crisis pregnancy center. Her mother found out, called her cell phone, and "Kathy" fled the pregnancy clinic before she could get counseling or an ultrasound.
Two days later, her mother again dropped "Kathy" off with money at the abortion clinic, where she underwent an ultrasound. Even though the image was extremely murky, it was enough to convince her that the Lord wanted this baby to live.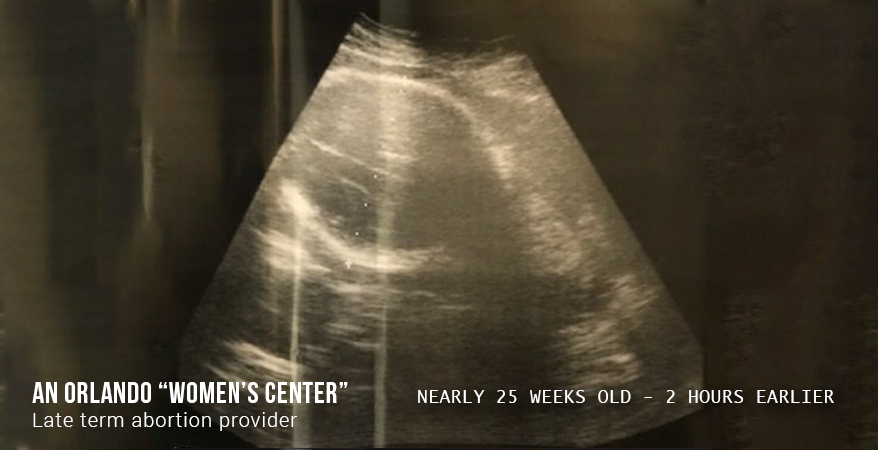 So, she went back to CHOICES, where she had another ultrasound performed.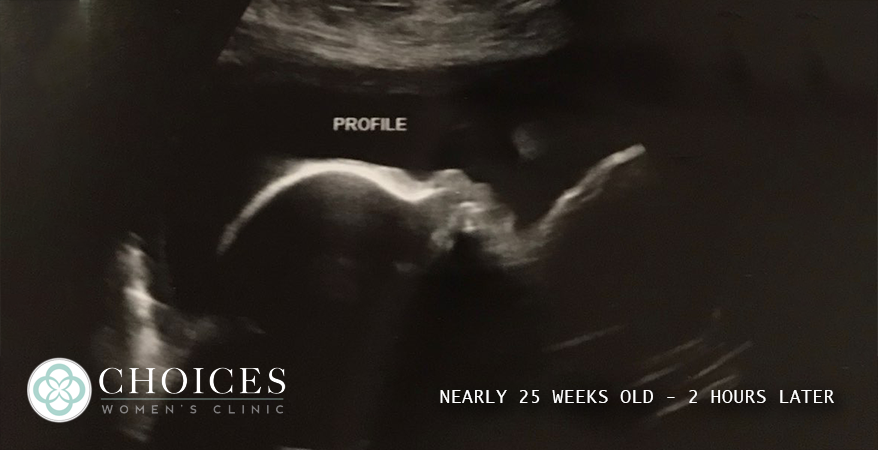 Unlike the abortion clinic rendering, the new image clearly depicted a fully formed child. "Kathy" knew that she had done the right thing. However, she experienced some severe symptoms that led the CHOICES staff to have her taken to a hospital emergency room. There, she was diagnosed with eclampsia, a life-threatening condition. So, doctors performed a C-section the next day, delivering a beautiful, healthy baby girl who weighed only 1 pound, 13 ounces.
The baby was placed on a feeding tube, but otherwise needed no special treatment. She was released on her due date in June from the Neonatal Intensive Care Unit (NICU). "Kathy" has graduated from school, is now caring for her baby and working, and her mom has come to accept that her new granddaughter is here to stay.
CHOICES pitched in with a crib, a car seat, diapers and other baby supplies. "We have been able to walk alongside Kathy and provide encouragement, prayer, and visits to the hospital," said CHOICES Executive Director Vicky Mathews. "Please continue to pray for this mom."
For 34 years, Vicky and her staff have been assisting mothers (and fathers) to keep their babies instead of aborting them, a route she herself regrettably took many years ago. Helping others has been key to her own healing, she said.
The selection of an Orlando site for the clinic in 1983 was strategic. Orlando has six abortion clinics, including four late-term clinics. CHOICES was planted deliberately near three of them.
As the CHOICES website explains: "1 in 4 pregnancies in the U.S. end in abortion. More than 11,000 of those abortions happen right here in the greater Orlando area. Choices Women's Clinic works to reach men and women in need to impact them for life and Christ…. Orlando may be a fun place to live, work and play but the sad truth is that the lives of 35 babies are terminated every day at abortion clinics in our City Beautiful!
"Choices Women's Clinic's ministries all work together to save lives – not just those of the unborn, but the mothers that carry them. We find that when a baby's life is saved, it has a positive ripple effect across an entire family – and for generations to come."
Two years ago, CHOICES purchased a 6,000-square-foot building and renovated it to be a top-notch fully operational health clinic. Many of its patients wind up there after encountering Mr. Barros. "He sends us two or three a day, or two or three a week, or sometimes even 10 to 15 a week," Vicky said.
"Kathy" and her baby are just two of many lives that have been reclaimed because they had an alternative to the cold, abortion-for-profit clinics that for good reason don't want to give women a clear picture of the new life forming within them.
For more information on CHOICES, visit their website.