May is Homeschooling Awareness Month, a fine opportunity to look more closely at the current state of teaching children at home, some of them learning outside the public school system for the first time.
There may not be many silver linings to the coronavirus pandemic, but an upsurge in homeschooling is one of them.
May is Homeschooling Awareness Month, a fine opportunity to look more closely at the current state of teaching children at home, some of them learning outside the public school system for the first time.
Right now, "business" is booming.
Ordinarily, anywhere from 1.8 million to 4 million children are being homeschooled, depending on who is doing the estimates. But with schools locked down all over the country, about 50 million school-age kids are being home-schooled in some capacity, according to the Home Schooling Legal Defense Association (HSLDA), the largest and oldest homeschooling advocacy organization in the United States.
"Homeschooling is educational freedom," Michael Smith, president of the Virginia-based HSLDA, wrote in the Daily Caller. "It's a deliberate choice to provide a tailored learning experience, ensure a nurturing environment, choose curriculum, and weave learning into life, whatever the reasons—stronger academics, protection from bullying, management of anxiety, different learning styles, or special needs."
A Crucial Difference
Mr. Smith sees a big distinction between today's at-home public schooling and homeschooling as a regular activity.
"Pandemic school … is not something parents chose. It's really public school distance learning. Parents have no say in curriculum or the schedule given to them. For now, working-at-home parents have precious little time to pivot and figure out each new app, turn in assignments, and juggle a new demanding workload at home. Some kids and families thrive in distance learning, but many others are finding it very difficult, not to mention annoying.
"The Associated Press reports that parents are finding pandemic schooling exhausting and unsustainable. NBC's Today magazine says some parents have simply given up on public school demands. And HSLDA is being contacted by others who are withdrawing from public school and piecing together a homeschool plan that fits their life right now."
Has being forced into homeschooling led more parents to consider doing it full-time?
"Dramatically," says National Home School Association President Allen Weston. "There've always been a percentage of public education parents who have wondered whether homeschooling would be a good fit. Now, they've hit it head-on and are experiencing some of the freedoms that homeschooling families routinely enjoy, like flexible schedules."
Mr. Weston founded the Home Learning Association in 2013, renaming it later as the National Home School Association. Before that, he was a financial planner for Investor Diversified Services/American Express and managed a mutual fund.
Born and raised as a Lutheran, he said the NHSA is not overtly Christian, but "much of the homeschooling community we serve is faith-based."
The Calls Began Coming in: "Help!"
Weeks ago, when schools started closing, Mr. Weston's group, based in Highlands Ranch, Colorado, began taking phone calls from panicked parents crying, "Help. I have no idea what to do."
"Within two weeks, the calls started changing," he said. "Now, we're being told 10 times a day that parents are happy that they've discovered they can do it. They say, 'you know, this can actually work for us! We're going to do this for real.'"
Supporting Their Own Values
In a sense, the decision by many families to teach their own children mirrors why people invest in the Timothy Plan: They want their choices to reflect their values. They don't want to support institutions that openly promote immoral activities.
Since 1994, Timothy Plan's mutual fund family has screened out companies involved with abortion, pornography, anti-family entertainment and other unbiblical practices.
In 2018, Timothy Plan exhibited at 13 home school events in 11 states, and was the premier sponsor for all six events staged by Teach Them Diligently, a homeschooling on-line clearinghouse. Timothy Plan also sponsored two Texas homeschooling conventions.
At each event, Timothy handed out the Biblical Stewardship Family Edition, a 118-page workbook written by Timothy Plan founder and CEO, Art Ally. The high school curriculum is worth one credit hour toward graduation.
Opposition from Harvard Yard
Not everyone is thrilled over the upsurge in interest in homeschooling. Harvard Law Professor Elizabeth Bartholet has actually called for banning homeschooling in the United States.
In an article in the Arizona Law Review, she warns that children taught at home might not be exposed to the same social views as children in public schools.
That's actually the whole point for many homeschooling parents, especially Christians, who feel government schools are assaulting their most deeply held beliefs on a daily basis.
"There is a long list of problems with public schools," Mr. Weston says. "Especially in California, where kindergarteners are told that there are 27 different genders."
HSLDA has pushed back hard against Prof. Bartholet, releasing the first of a series of articles rebutting her views.
"She's coming from a statist worldview that thinks the government needs to be in charge of your kids, and parents shouldn't be," said James R. Mason, HSLDA's vice president for litigation and development.
"That ideology has been around for a long time and it's not new. The National Education Association (NEA) every year passes resolutions saying that parents shouldn't be allowed to homeschool."
Is Bartholet dangerous? "She's a top academic at a top school," Mr. Mason said. "Her ideology could be growing in influence."
Founded in 1983 by homeschooling dads Michael Farris and Michael Smith, both attorneys, HSLDA has secured the right to homeschool via many court battles. Mr. Farris also founded Patrick Henry College in Purcellville, Virginia to serve mainly homeschoolers, and he is now president and CEO of the Alliance Defending Freedom, the largest Christian civil liberties legal group.
All 50 states now allow homeschooling. The battle is never over, but "the victory has been won," Mr. Mason said. "However, anytime citizens interact with government, it can lead to friction."
A case in point is Sosebee, et al, v. Franklin County School Board, which the Virginia Supreme Court heard in April. A homeschooling family, the Sosebees, challenged a school district's adding informational requirements for homeschoolers that exceed state guidelines.
"They don't have that authority," Mr. Mason said. "They threatened parents to take kids to social services if they didn't comply." A ruling is pending.
A Growing Movement
Over the past 40 years, homeschooling has become far more sophisticated and has many more resources.
The National Home Education Research Institute (NHERI), for example, conducts and collects research about homeschooling. Publisher of the journal the "Home School Researcher," the institute was founded in 1990 by several people, including current NHERI President Brian Ray, Ph.D.
Many other sites offer curricula, tips and networking opportunities.
In April, the HSLDA launched a new website, Mompossible.org, to help parents "navigate the school day and discover the benefits of full-time homeschooling," said Sandra Kim, HSLDA media relations manager. "It's a quick start guide for Americans who are trying to juggle teleworking, homeschooling, and being at home all day with their kids."
"It's quite different from 35 years ago," Mr. Mason said. "It's not just mom at a kitchen table. A lot of homeschooling families work alongside private schools, with homeschoolers participating in sports, for instance."
Secular and Jewish homeschooling is growing as well.
"We're a Christian organization, but we believe all parents have a right to homeschool their kids no matter what their religion," said HSLDA's Mr. Mason. "So, we have helped Jewish families over the years and continue to do so."
Will the sudden spike in homeschooling due to school lockdowns have a lasting effect?
The HSA's Mr. Weston answers a resounding "yes."
"A lot of people who are unexpectedly at home with their kids have discovered the joy of teaching their kids close up.  They come to our website to see how to homeschool, and we think many will end up doing it full-time."
---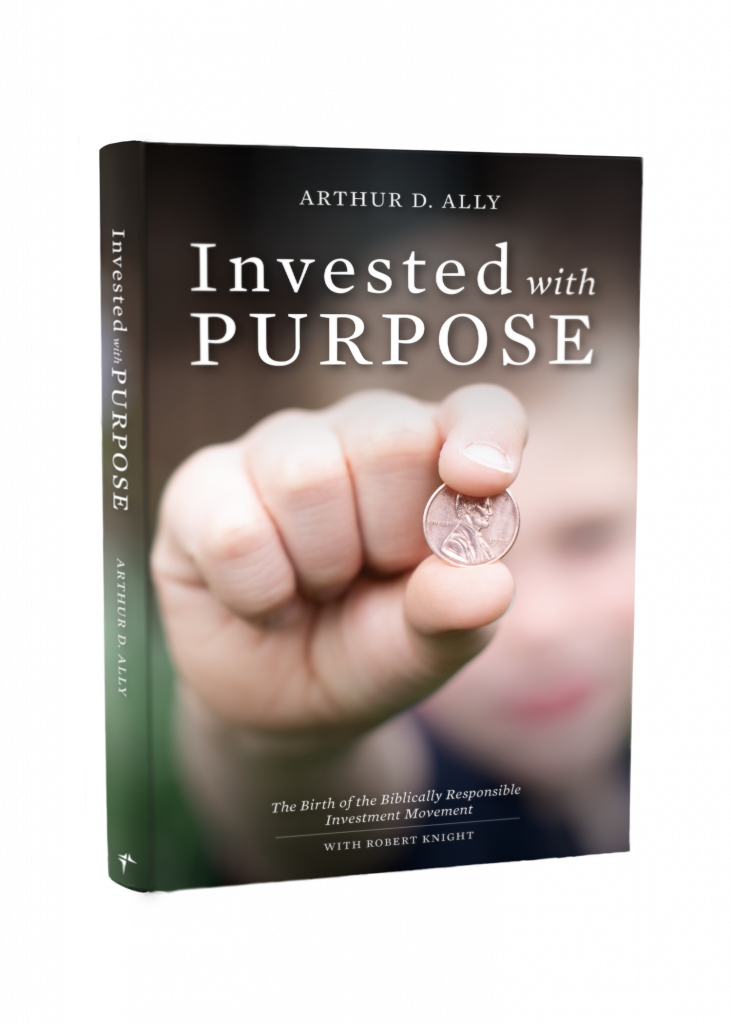 How much money is OK to have invested in abortion or pornography?
The answer is simple. Not a Penny.
Invested with Purpose is the story of how one man's vision has led to a revolution: Biblically Responsible Investing.
Available on Amazon.
Published by Nehemiah Project, a ministry dedicated to building Kingdom businesses globally.