It is interesting to find out what was the cause of Daniel's success. Daniel was successful in every administration he served in. I'm not sure if you have ever given any thought to this, but Daniel served all different kinds of bosses – all different types of kings – from Nebuchadnezzar to Belshazzar, to Darius – all the way to Cyrus.
With every one of these leaders, Daniel always seemed to move to the top of the organization. This was also Joseph's case in the Book of Genesis – around Chapter 37. When you examine the life of Joseph you'll discover that regardless of where you put him, he always ended up on top. You could put him in Potiphar's house as a slave – and he ended up on top! You can put him in prison – he ended up on top. There is something about persons like Joseph, Daniel, Esther, and Deborah (men and women) it doesn't matter where they end up – where you put them – who's the king – who's the leader – they always end up on top!!
If you think about it our country is in a recession. We are facing all kinds of shortages. Some people have all kinds of excuses for why they are not succeeding or doing well. I encluded them in this lesson – regardless of their situation, they always rose to the top. I think we'll all agree these persons were all sold out to the will of God! They were all sold out to the purpose of God. There were some other attributes they possessed that helped them to always end up on top.
Daniel was not the most educated person. He was educated, but he wasn't the most educated. Daniel was fortunate, but he wasn't the most fortunate. He had friends in high places, but so did other people. However, Daniel was singled out by every administration as one who operated in excellence. Let's examine some of Daniels Performance Evaluations:
Daniel 1:19
And the king communed with them; and among them, all was found none like Daniel, Hananiah, Mishael, and Azariah: therefore stood they before the king.
Out of all that the king reviewed there was none like Daniel, Shadrach, Meshach, and Abednego.
Daniel 1:20
And in all matters of wisdom and understanding, that the king enquired of them, he found them ten times better than all the magicians and astrologers that were in all his realm.
Daniel 5:12
Forasmuch as an excellent spirit, and knowledge, and understanding interpreting of dreams, and shewing of hard sentences, and dissolving of doubts, were found in the same Daniel, whom the king named Belteshazzar: now let Daniel be called, and he will shew the interpretation.
Daniel 5:14
I have even heard of thee, that the spirit of the gods is in thee, and that light and understanding and excellent wisdom is found in thee.
Here is the sum total of Daniel's review, "He is better than all the rest." (10 times better)
He has an excellent spirit, he has excellent wisdom, he can explain difficult things and he can solve difficult problems.
Daniel demonstrated 5 distinct attributes that I believe we need in order to be successful in our own lives. Even though Daniel came in as a slave, he still worked and did his best and step by step he kept being promoted. He never asked to be promoted. He never sought a promotion. Daniel demonstrated 5 distinct attributes:
#1 Commitment – He was committed.
Commitment is the desire to remain faithful.
Proverbs 3:1
My son, forget not my law; but let thine heart keep my commandments:
Daniel was committed in three areas:
He was committed to maintaining his own convictions. He did not try to impose his convictions upon others, but he maintained his convictions. As he lived out his convictions, it lifted him among his employers.
He was committed to giving his best to every kingdom – wherever he went, he always gave his best. There are some on the other hand, that wherever they go, they always cause a problem! They are not comfortable unless there is a problem! Daniel, however, was the exact opposite. Everywhere he was placed, he was a blessing. Things improved.
He was committed to being an example worthy of inspection. In other words, he was worth being checked out. He was true to this call. True to his job – he really meant business!
The first attribute of Daniel was that he was Committed. The second attribute I want you to focus on is:
#2 Competent – The skills to contribute.
Proverbs 3:5
Trust in the Lord with all thine heart; and lean not unto thine own understanding.
Daniel was competent in several areas. Listen, it's never enough just to be committed and faithful. You need to be competent – especially if you get paid to do what you do. If you volunteer, it's great to be faithful – we want them to show up, but we want them to do something after they show up – and we want them to be competent about what they are being assigned to do. It helps to have a competent volunteer. Competency is critical – note Daniel's competency…
He was competent in wisdom and understanding. Competency is not just showing up and doing what you have been assigned. Competency is about doing more than what was assigned and doing it better than what was expected.
Note: People who just do, what's asked to be done, are very easy to replace – they are easy to replace! Daniel not only did the job, but he also understood why he was doing what he was doing – what it meant – and how to make it better. He was competent in wisdom and understanding.
He was competent in specific areas of training. For many of us we have a very skilled specific task. (Example: Minister of Music, Finance). You have to be competent in your specific areas of training. Daniel was competent in specific areas (literature, science, and engineering). So the king brought them in so they could oversee areas of education and science. You ought to be competent in the area where you are. Competent means being better than good, but well trained in what you do.
He was competent in more than one setting. and could multi-task. He could do more than one thing at the same time. Now, this is helpful because in these difficult times when one thing is no longer needed you can move on to something else that you're good at. He carried his competency from one administration to the other.
The third attribute of Daniel was…
# 3 Courageous – which is having the heart to serve.
Proverbs 3:6
In all thy ways acknowledge him, and he shall direct thy paths.
It takes a lot of courage to serve people. Somebody said, "You have to be a lot crazy and a little courageous to serve people." Daniel had:
Courage to serve a vision with his all – regardless of who they were – he served their vision with his all.
Courage to put aside issues from the past. Remember Daniel was kidnapped; he was taken into captivity by Nebuchadnezzar. He had a right to be upset and stuck. Daniel, however, put aside those issues. Daniel recognized that God put him in that place and then he brings a skill that can bring change.
Courage to die for the vision.
The fourth attribute of Daniel was…
#4 Compassion – is the love to meet needs.
Proverbs 3:3
Let not mercy and truth forsake thee: bind them about thy neck; write them upon the table of thine heart:
Compassion:
requires us to share the truth with kindness
requires us to feel the pain of others
is what fuels our spiritual mission. We should all be driven by compassion.
Matthew 14:14
And Jesus went forth, and saw a great multitude, and was moved with compassion toward them, and he healed their sick.
Note: Compassion is not allowing someone to do sub-par work and not let them go. Compassion is finding some other place for them, where they can do well. Compassion is challenging them to become better.
It hurt to tell the king of God's judgment!
Daniel so wanted this word to fail. Daniel 4:27
The king completely turned to God. Daniel 4:37
The fifth attribute…
#5 Creativity – which is the ingenuity to change and to produce change.
In the area where you work, what are you doing better this week, than what you did last week? Or are you doing the same thing the same way, and are you not looking for ways to improve? There are always better ways to improve.
Daniel was creative enough to:
embrace new leadership.
find answers.
take on new areas of responsibility.
He never had to seek promotion. He sought excellence and that brought promotion. Daniel's ability to excel is what kept him on top!
---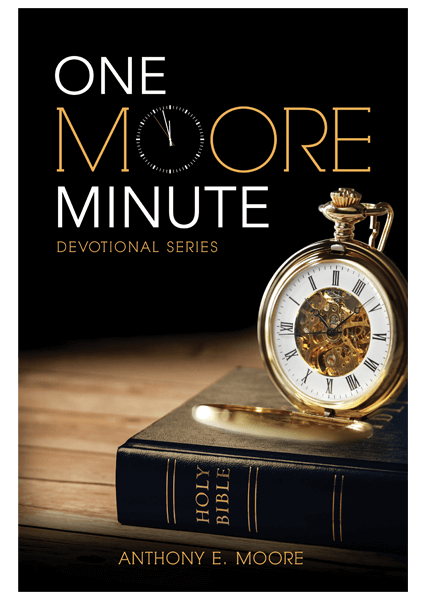 One Moore Minute
One Moore Minute – a 40 Day Devotional – explores issues that are deep in nature and yet entrenched in our daily affairs with biblical truths that are both timeless and treasurable. This devotional will touch who we are, where we are, and why we are.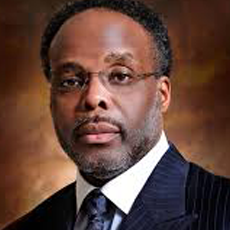 The chaplain for Timothy Partners, Ltd., Pastor Anthony E. Moore  is a native of Baltimore, Maryland and his lovely wife, First Lady, Cynthia A. Moore a native of Dallas, Texas. Pastor Moore has served Carolina Missionary Baptist Church since 1987 and has been proclaiming the Gospel of Jesus Christ for over thirty years. His latest book is "One Moore Minute" a devotional series. No matter your age, the color of your skin, your circumstance, your economic plight in life, it's a fact, that through the love of Jesus Christ – you can do all things.