Macroeconomic Update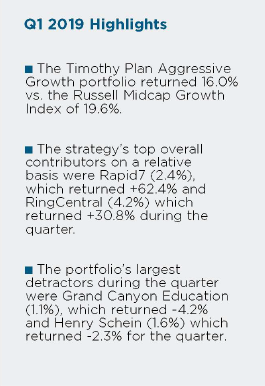 The U.S. economy continues to steadily grow at moderate rates, with the Atlanta Federal Reserve estimating first quarter 2019 growth of 2.1%. This follows the US GDP growth of 2.2% in 04 of 2018. It is worth noting however that the 04 GDP growth rate was a notable deceleration from the growth seen earlier in the year There were several issues that led to the deceleration lower business confidence from trade war concerns; dramatically slower growth in EU and China, and the government shutdown in January However, the Institute for Supply Management Manufacturing and Non-Manufacturing (services) indices [ISM] registered continuing economic expansion readings
On the demand side of the economy, consumers remain on solid ground as employment gains continue to be surprisingly healthy Despite an economic expansion that has lasted over nine years, the monthly employment data indicates that more workers are returning to the workforce. Wage growth continues to steadily improve as well. Concerns in the past of full employment leading to rampant wage inflation appear to have been overblown. The concerns that arose last quarter about the Federal Reserve continuing to raise interest rates during this recent economic slowdown have faded, as the Fed has signaled that interest rate policies are on hold for now While the markets now are pricing in a higher probability of interest rate reductions, we are doubtful that will occur. The investor psychology that was overly negative last quarter has been replaced by a more balanced perspective; while US growth is decelerating, that does not necessarily insure an imminent recession.
Ql 2019 Performance Update
Equity markets saw significant gains in 012019, with most domestic equity indices delivering double-digit returns. While growth stocks handily beat value stocks, market capitalization was not a significant factor for generating alpha However in the growth space, smaller names beat out larger names by about 100 bps7 Each sector in the Russell Mid Cap Growth had positive returns for the quarter, with most putting up 16% or more in gains.
The portfolio had strong returns in 01, delivering 16%. The benchmark, however rose by 19.6%. When markets are this strong, holding any amount of cash will drag alpha Because of the portfolio's 6.1% average cash weight, we lost over 100 bps of return. Technology and Utilities stocks were particularly strong but the Consumer Discretionary sector underperformed, with Henry Schein and KAR Auction Services being the largest detractors. Combined, the cash drag and the underperformance of the Consumer Discretionary sector accounted for most of the fund's underperformance to the Russell Mid Cap Growth Index.
Contributors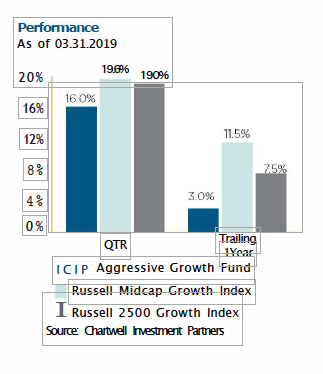 Rapid7 RPD, (2 4%, +62 4%) 2 produces software that helps enterprises assess their vulnerabilities, detect and respond to attacks, and gather and analyze security related data across their network. They reported a phenomenal fourth quarter, with revenues, bookings and earnings easily exceeding expectations Their guidance for full year 2019 was surprisingly strong as well.
RingCentral, RNG (4.2%, +308%) is a provider of software as a service solution for business communications. It is benefiting from the steady shift to Voice over IP telephony, which allows employees to communicate via voice, text, video and conferencing over a hosted IP platform RingCentral enjoyed revenue growth of 34% in 2018, and given the greater number of reselling partners, we expect the company to post another year of at least 30% growth in 2019.
Detractors
Grand Canyon Education, LOPE (11%, -4 2%) is in the midst of shifting its business model. In the past management was totally focused on growing its Arizona campus; now however it is making significant investments in operating online courses for other universities on a national scale. The acquisitions and investments are having a negative near-term impact on margins; unfortunately, the management team isn't disclosing enough information to investors regarding this margin impact Therefore, while the company is undergoing this strategic shift we are stepping to the sidelines.
Henry Schein, HSIC (16%, -2 3%) is an international dental and medical products distributor. Unfortunately dental utilization trends in the US, which is Henry Schein's largest market continue to be quite anemic; therefore while Henry Schein is outperforming its competitors, the overall market growth is disappointing We have sold the position because we find more attractive investment opportunities.
Market Outlook
The strong equity market returns in 01 rewarded investors that were able to patiently endure the surprising selloff in 04 2018. The investor psychology has shifted significantly, with most investors now interpreting every datapoint with a 'glass half full' perspective Given the dramatic psychology swings that we have witnessed over the past year, we are careful to avoid being overly influenced by the most recent data point or the most recent market swing Staying objective and unemotional has become critical when making investment decisions.
We continue to find compelling investment opportunities; there is not any one specific theme, instead we are finding unique companies that are experiencing exceptional growth We remain focused on generating alpha and producing the strongest investment results we can for you over the long run. We thank you for your continuing support and investment.
The securities identified and described do not represent all of the securities purchased, sold or recommended for client accounts. The reader should not assume that an investment in the securities identified was or will be profitable. The Index returns are provided to show an example of alternate return potential during the relevant time periods; however, indices may possess different investment attributes that may make comparisons difficult such as volatility, liquidity, market capitalization, and security types. The statistical data regarding the indices has been obtained from Bloomberg and the returns are calculated assuming all dividends are reinvested. The indices are not subject to any of the fees or expenses to which the portfolios are subject. This report assumes the reader has sophisticated knowledge of investing and the markets. If you require more information about the information presented, including the portfolio characteristics and risk statistics, please contact us.
Manager views expressed herein were current as of the date indicated above and are subject to change. It should not be assumed that recommendations made in the future will be profitable or will equal the performance of the securities in this commentary. A copy of the calculation methodology and the full list of recommendations made in the preceding year is available upon request. The performance data quoted represents past performance and does not guarantee future results. Performance returns quoted are gross of fees which were calculated on a time weighted basis and do not give effect to investment advisory fees, which would reduce such returns. Please see Chartwell's Form ADV, Part II for a complete description of investment advisory fees. The following statement demonstrates the compound effect advisory fees have on investment returns: For example, if a portfolio's annual rate of return is 15% for 5 years and the annual advisory fee for a client is 100 basis points or 1.00%, the gross cumulative 5 year return would be 101.1% and the five year return net of fees would be 92.5%. Actual fees charged to portfolios may be different due to various conditions including account size, calculation method and frequency, and the presence of a performance or incentive fee. The deduction of performance and incentive based fees will have similar, yet often larger, impacts to performance and account values than standard management fees. To receive a complete list and description of Chartwell Investment Partners' composites, performance attribution for all securities, and/or a presentation that adheres to the GIPS® standards, please contact Lynette Treible by phone (610)407-4870, email [email protected], or by mail to 1205 Westlakes Drive, Suite 100, Berwyn, PA 19312.