Macroeconomic Update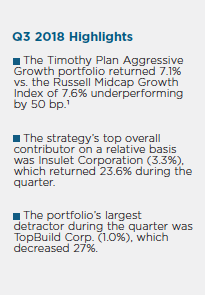 The U.S. economy continues to experience strong growth, with all economic models indicating that the Q3 Gross Domestic Product (GDP) growth rate will continue to be very strong. Specifically, the Atlanta Federal Reserve's GDP model estimates Q3 growth at 4.1%, only modestly lower then Q2 GDP growth of 4.2%. Business confidence remained high and attempts to move product through the supply chain prior to implementation of tariff s propped up operating rates. Continued employment gains during Q3 and a further increase in average hourly earnings kept consumer confidence at elevated levels. When consumers feel confident they tend to keep their wallets open. Federal government spending, following the adoption in mid-March of a $1.3 trillion spending plan for the fi scal year ending September 30, 2018, also added to aggregate U.S. growth. That spending plan was temporarily extended to the end of 2018.
Consistent with our expectations noted in our last quarterly commentary, capital expenditure spending by businesses slowed into quarter-end as trade policy uncertainty continued and rising input prices pressured equipment affordability. Wholesale prices are clearly showing an up-trend and that is expected to eventually make its way into retail prices over the near term.
That will keep the Federal Reserve in the hot seat as it tries to manage inflation expectations while at the same time allowing this economic expansion to continue as long as possible. The above-trend growth in the second and third quarters is likely unsustainable and we would expect some softening as rising prices and rising interest rates start to have an impact.
Q3 2018 Performance Update
The Timothy Aggressive Growth portfolio returned 7.1% in the third quarter versus a Russell Mid Cap Growth Index return of 7.6%. Stock selection was strong across many sectors but especially in the Materials & Processing sector. The weakest performers were in the Financials sector. There are concerns within the Banking sector over loan growth, which has steadily decelerated throughout the year.
Contributors
The strategy's top overall contributor on a relative basis was Insulet Corporation  (3.3%), which returned 23.6% during the quarter. Insulet is a device company that is benefitting from the accelerating adoption of pump systems by diabetics on a global scale. They are also modifying their distribution structure, moving to direct sales in Europe, which should lead to higher operating margins over the next year.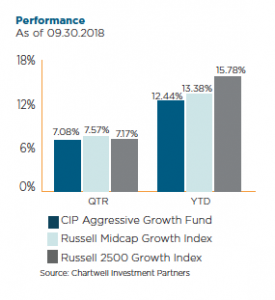 Another strong performer was RingCentral (3.0%), which returned 32% during Q3. RingCentral (RNG) is a provider of software-as-a-service, solutions for business  communications. The Company off ers a multi-user, enterprise-grade communications solution that enables customers and their employees to communicate via voice, text, HD video and web conferencing, and fax on multiple devices, including smartphones, tablets, PCs, and desk phones. The company is benefi ting from the rapid adoption of VOIP by enterprises due to lower cost, greater functionality, and,higher stability.
Detractors
The portfolio's largest detractor during the quarter was TopBuild Corp. (1.0%), which decreased 27%. TopBuild provides insulation installation services to homebuilders, particularly for new construction. While the company never reported disappointing earnings, investors are concerned that the slowdown that is occurring in the homebuilding industry will eventually impact TopBuild. This concern has led to a significant contraction in the valuation over the past quarter. Therefore, we have sold our position in TopBuild as we believe those concerns have merit.
Another und underperformer was GDS Holdings (0.35%), an international data center and colocation service provider, which also declined 27% in the quarter. There are several macro datapoints emerging that economic activity in China is slowing rapidly. Secondly, investors are becoming concerned that the trade war between US and China will further aggravate a slowdown, which will eventually impact GDS Holdings. The position in GDS Holdings has been sold from the portfolio.
Market Outlook
As we move towards 2019, the heightened pace of both economic growth and earnings growth that we have enjoyed will be hard to maintain, possibly presenting challenges for the stock market. While US midcap and smallcap companies have less overall exposure to the escalating tariff s, they are being impacted by overall lower economic activity. Across several sectors, we are seeing earnings growth being slowed due to higher commodity costs, higher labor costs, and higher freight costs.  These higher costs are already leading to a slowdown in the housing, auto, and broad industrial sectors. Given these trends, we will continue to focus our research efforts on domestically oriented companies, particularly in the Healthcare and Technology sectors.
We continue to find compelling investment opportunities. We remain focused on generating alpha and producing the strongest investment results we can for you over the long run. We thank you for your continuing support and investment. Please feel free to call or email us with any feedback or questions about the portfolio.
The securities identified and described do not represent all of the securities purchased, sold or recommended for client accounts. The reader should not assume that an investment in the securities identified was or will be profitable. The Index returns are provided to show an example of alternate return potential during the relevant time periods; however, indices may possess different investment attributes that may make comparisons difficult such as volatility, liquidity, market capitalization, and security types. The statistical data regarding the indices has been obtained from Bloomberg and the returns are calculated assuming all dividends are reinvested. The indices are not subject to any of the fees or expenses to which the portfolios are subject. This report assumes the reader has sophisticated knowledge of investing and the markets. If you require more information about the information presented, including the portfolio characteristics and risk statistics, please contact us.
Manager views expressed herein were current as of the date indicated above and are subject to change. It should not be assumed that recommendations made in the future will be profitable or will equal the performance of the securities in this commentary. A copy of the calculation methodology and the full list of recommendations made in the preceding year is available upon request. The performance data quoted represents past performance and does not guarantee future results. Performance returns quoted are gross of fees which were calculated on a time weighted basis and do not give effect to investment advisory fees, which would reduce such returns. Please see Chartwell's Form ADV, Part II for a complete description of investment advisory fees. The following statement demonstrates the compound effect advisory fees have on investment returns: For example, if a portfolio's annual rate of return is 15% for 5 years and the annual advisory fee for a client is 100 basis points or 1.00%, the gross cumulative 5 year return would be 101.1% and the five year return net of fees would be 92.5%. Actual fees charged to portfolios may be different due to various conditions including account size, calculation method and frequency, and the presence of a performance or incentive fee. The deduction of performance and incentive based fees will have similar, yet often larger, impacts to performance and account values than standard management fees. To receive a complete list and description of Chartwell Investment Partners' composites, performance attribution for all securities, and/or a presentation that adheres to the GIPS® standards, please contact Lynette Treible by phone (610)407-4870, email [email protected], or by mail to 1205 Westlakes Drive, Suite 100, Berwyn, PA 19312.